A lot happens each month in the communication world, so here's some of what you might of missed!
Galaxy S6/S6 Edge announced
Samsung has announced a new Galaxy S smartphone: the Samsung Galaxy S6 (left), alongside its twin sister the Galaxy S6 Edge (Right)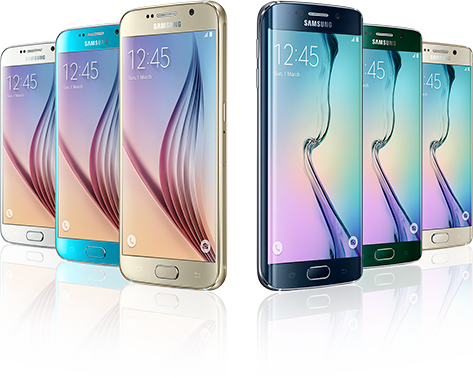 With the Galaxy S6 Samsung has finally responded to plastic build quality criticism, and the Galaxy S6 looks great (and, also important, Samsung assures us that it won't bend!). It's built from metal and glass, with Gorilla Glass protecting both front and back, and features a gorgeous 5.1in Quad HD (2560×1440, 577ppi) Super AMOLED display – with the smaller screen, that's higher than that seen on the Note 4. It's also 20 percent brighter than the S5's screen at 600cd/m2, making it easier to see outside.
The super-thin Samsung Galaxy S6 is just 6.8mm thick (143.4×70.5×6.8mm) and weighs a tiny 138g. It will come in White Pearl, Black Sapphire, Gold Platinum, and Blue Topaz.
The Samsung Galaxy S6 also has wireless charging built in (supporting both PMA and WPC), meaning no more fumbling in the dark for power cables, although the trade-off is a non-removable 2550mAh battery. But you'll get enough power for four hours use in just 10 minutes of charging, and it'll charge from zero to 100 percent in half the time of the iPhone 6.
The Samsung Galaxy S6 is powered by the company's own Exynos octa-core (2.5GHz quad + 2.1GHz quad) processor, a 14nm 64-bit chip that's apparently 30 percent more power efficient. It has two quad-core sets, one geared toward efficiency and the other performance. This is paired with 3GB of LPDDR4 RAM. It says the lag and stuttering is gone from TouchWiz, too.
The successor to the Galaxy S5 will be on sale for April 10. The Galaxy S6 Edge is a variation on the main device that has a display wrapping around the side, in order to display notifications and other useful information.
Like the Galaxy Note Edge, the Galaxy S6 Edge has a display that is curved, creating additional screen real estate that can be used for notifications. It also has a new feature that lets you choose from one of eight colors to quickly glance at who's calling you when the phone is placed upside down.
The Galaxy S6 Edge is packed with all the same components inside as its flat cousin, except for a larger 2,600mAh battery pack.
Sadly, the new design means there is no longer support for microSD, and the S6 is not waterproof. But the all-new Galaxy comes in 32-, 64- and 128GB capacities.
Tesco to ditch distributors
Tescos is going solo in the mobile worlds, looking to drop its distributors from it's supply chain and go direct with the manufacturer's.
This moth has come as a bit of a shock to the distributors, who will be losing an estimated £150M that the supermarket giant generates from them.
The decision to cut out mobile distributors closely follows Tesco's decision to phase out mobile operator contract deals from its Tesco Phone Shops, as part of plans to only sell Tesco Mobile contract deals to its customers.
Operators agree to £100 cap on charges for stolen mobiles
UK mobile operators have agreed to implement a £100 liability cap to protect customers who have had their mobile phone stolen from facing massive bills.
EE, O2, Vodafone, Three and Virgin Mobile have signed up to a measure to the cap, which will limit the amount customers can be charged if they have their device taken by thieves.
The cap will become active when a phone is reported lost or stolen within 24 hours of it going missing and has been secured by the department for culture, media and sport.
Minister for the digital economy Ed Vaizey said: "By working with the mobile operators, we have secured an agreement that will provide consumers with real benefits as well as offer peace of mind."
According to the Citizens Advice Bureau, customers regularly contact them after receiving massive bills following the theft of their phones, with some as high as £23,000.
EE to double franchise partners
Operator aiming to take franchise numbers to 80, whilst its direct store numbers could top 600 by the end of the year
EE plans to double the number of its retail franchise partners to 80 this year, the operator has confirmed.
The operator had 22 franchise partners as of January last year and had originally aimed for 100 by December but the rollout experienced unspecified delays but is again now actively speaking with potential partners.
"Franchise is important to us and we are looking for partners to grow," said EE chief commercial officer Marc Allera Allera. "We are looking for a reasonable expansive increase in the programme. We have around 40 stores under our franchise programme today and to say we are looking to double that this year would be fair."